How to Conduct Quality Background Checks in Less Time
Key Points about quick and thorough employee background checks:
A lengthy background screening process can increase your time to hire.
You can lower this risk with an efficient, yet thorough background screening process. The right provider, candidate communication, and filtering criteria can help.
If you're looking for an HRIS that integrates with a background screening service provider, check out SentricHR and Verified First's partnership.
---
The novel coronavirus and resulting business shutdowns have led to a steep rise in unemployment. Despite these unfortunate circumstances, we still need essential goods like food and medicine. As a result, thousands of jobs are opening up across the country, making it more important than ever to conduct background checks quickly and safely.
If you need to hire new workers or find replacements, these tips will help you create a screening process that's speedy, compliant, and thorough.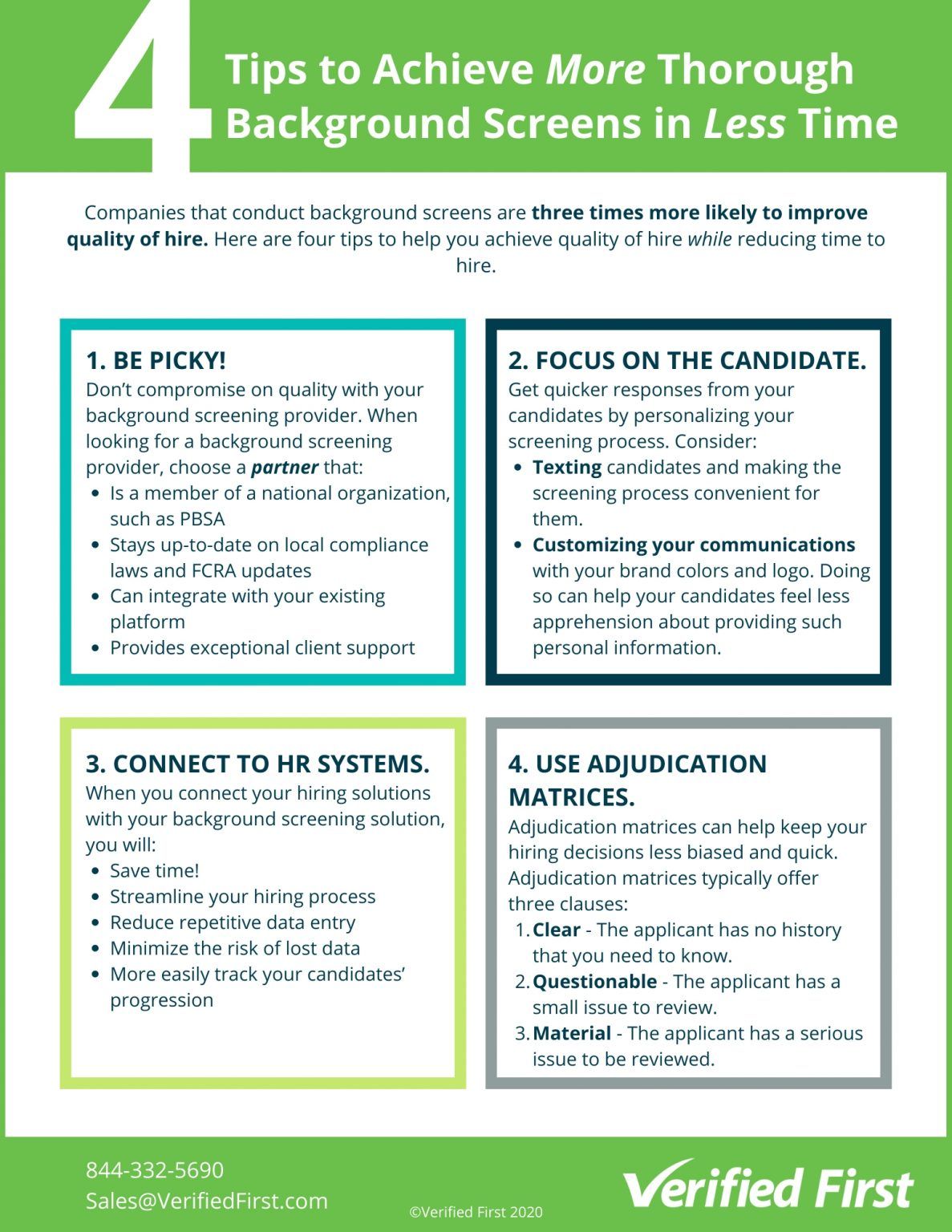 1. Choose the right background screening service provider
Every background screening service provider offers different certifications and check types. Save time by finding the right provider for your organization. Otherwise, you'll have to find a new provider or try to work with multiple at the same time.
First, find service providers that adhere to local compliance laws and Fair Credit Reporting Act (FCRA) updates. Ideally, your provider should also be a certified member of a national organization like the Professional Background Screening Association (PBSA). As a PBSA member, they're monitored and held to high levels of ethics and screening standards. When it comes to security and compliance, these providers are the most reliable.
Next, pinpoint providers that conduct the types of screenings your organization needs. Background checks can include criminal background checks and drug tests. But they can also cover driving records, credit checks, and education checks. You may need to conduct all of these checks or only a specific kind of test for your industry. Either way, you'll want a provider that can support your needs.
If you're torn between providers, choose the one with the best customer support. Look for timely responses and friendly, knowledgeable staff who will help you along the way.
2. Communicate with your candidates during the screening process
As you probably know, a candidate can stall the screening process more than anyone. Before you can conduct a background check, you need their signature and other personal information. But many candidates take their time when responding with this data. To obtain faster candidate responses, make the process as easy as possible for them.
For example, you can send text messages about the next steps, in addition to emails. Most candidates check their cell phones more often than their email inbox. If they've given you consent to text them, chances are they'll respond to your text faster than an email.
If you're worried that you'll be mistaken for spam, customize your communications. Add your organization's logo and brand colors to all email messages to help candidates recognize official communications. They'll likely feel less nervous about providing personal information and respond without hesitation.
3. Integrate background checks with your HRIS
Background checks are a crucial part of the hiring process. However, they're often treated as a separate task because they aren't integrated. Many organizations can't conduct screenings from their HRIS – they need to navigate to an external site.
It makes sense, then, to integrate background screening capabilities with your HRIS. That way, you can complete the entire hiring process from a single platform. This makes it easier to track applicants and update their statuses. In the end, you'll save time and reduce data entry and possible errors.
In SentricHR, you can request background checks directly through our integration with Verified First. Verified First compiles the reports and you can approve or deny them on SentricHR. With background checks built into the hiring process, you can reduce the overall time to hire.
4. Filter background checks using adjudication matrices
Using background checks to make hiring decisions can be a lengthy process with legal and compliance risk. To make this process easier, use adjudication matrices to help you review background check results and make unbiased hiring decisions quickly.
These matrices usually have 3 clauses: Clear, Questionable, and Material. If a candidate's report is Clear, they have no history you need to be aware of. If the report is Questionable, the candidate has a minor issue you should review. If the report contains a Material clause, the candidate has a serious issue. You need to review it before making a hiring decision.
Your organization has some power to decide which offenses fall into which categories. For example, your organization may deem minor traffic violations, like speeding tickets, irrelevant. In most cases, these offenses won't affect your hiring decision. You'll classify them as Clear and these offenses then won't show up on reports. This process speeds up screenings because you won't need to review every offense.
---
In today's current environment, background checks may not be your top priority. You may be struggling just to maintain business as usual, although we hope this isn't the case. Whether you need a smooth hiring process now or in the future, we hope these tips can help.
From our Sentric community to yours, we wish you continued health and safety.
For more background screening tips, please visit Verified First.